Title
Introduction and Allegro
Publication
Introduction and Allegro
Instrumentation
Harp, Flute, Clarinet, String Quartet
Programme notes
Written by Maurice Ravel in 1905 and premiered on 22 February 1907 in Paris.
Cover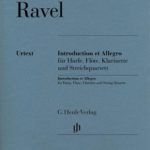 Score
YouTube
SoundCloud
Publisher catalogue No.
Publication year
Notable performances
The premiere took place on 22 February 1907 at the Circle Music Hall of the French Photographic Society in Paris, featuring Micheline Kahn (harp), Philippe Gaubert (flute), M. Pichard (clarinet), and the Quartet Firmin Touche, all under the direction of Charles Domergue.