Standard
Programme notes
Composed by Ernest Chausson (1855-1899). Arranged by John McCabe
Chausson wrote some interludes for flute and harp for a production of Aristophanes' The Birds, performed at Le Petit Theatre de la Galerie Vivienne, Paris, in 1889. At the request of Emily Beynon, working from the original manuscript, which is held in the Bibliotheque Nationale, Paris, John McCabe has made a single concert piece using some of this incidental music, a kind of continuous suite rather than a single movement.
Editor
Cover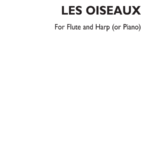 Score
YouTube
SoundCloud
ISMN
Publisher catalogue No.
NOV956604
Publication year
Notable performances
The first performance of this realisation was given on 21st January 2005 at Tunstall Parish Church, Sittingbourne, Kent at a concert of the Sittingbourne Music Society - the artists were Emily Beynon (flute) and Catherine Beynon (harp).