Programme notes
NOCTURNE
The countryside at Andé lies under the low and heavy clouds of a summer night - only the noise of the crickets disturbs the restless stillness. Suddenly, stars shining through a break in the clouds discover the Seine - moving silently and serenely through the night.
The Adlais Edition
Petite Suite was assigned to Adlais Music Publishers in 2015 by David Watkins following the collapse and subsequent liquidation of the original publishers United Music Publishers Ltd.
The new Adlais engraving corrects a number of typesetting errors in the previous edition.
The front cover of this edition is from the original yellow and blue design by David Watkins.
Other notes
Grade 7-8 Pedal Harp
ABRSM Grade 7 Harp (P) - Nocturne
ABRSM Grade 7 Harp (P) - Fire Dance
ABRSM Grade 8 Harp (P) - Prelude
LCM Grade 7 Harp (P) - Nocturne or Fire Dance
Trinity Grade 7 Harp (P) - Prelude or Nocturne or Fire Dance
Publisher
Adlais Music Publishers
Editor
Cover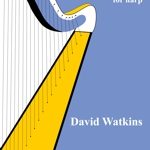 Score
YouTube
SoundCloud
Publisher catalogue No.
Adlais 216
Publication year
Notable performances