Standard
Programme notes
This work was awarded first prize in the 1961 International Competition for Harp Composition in the United States of America. Awarded by the Northern Californian Harpists Association.
PRELUDE
Early morning on the Seine. The sun shines and the surface of the water is only disturbed by swallows, dragonflies and a small boat. Cows graze in the meadows which lead down to the water. One hears only the joyous cries of swallows and the song of birds from the wood on the southern bank.
NOCTURNE
The countryside at Andé lies under the low and heavy clouds of a summer night - only the noise of the crickets disturbs the restless stillness. Suddenly, stars shining through a break in the clouds discover the Seine - moving silently and serenely through the night.
FIRE DANCE
A piece which evokes the exciting ritual dances of South America. The style of this dance was inspired by the sound of the little Paraguayan harp where the effects are usually simple but rhythmic impulse very strong.
These pieces may be performed separately.
The Adlais Edition
Petite Suite was assigned to Adlais Music Publishers in 2015 by David Watkins following the collapse and subsequent liquidation of the original publishers United Music Publishers Ltd.
The new Adlais engraving corrects a number of typesetting errors in the previous edition.
Other notes
Grade 7-8 Pedal Harp
ABRSM Grade 7 Harp (P) - Nocturne
ABRSM Grade 7 Harp (P) - Fire Dance
ABRSM Grade 8 Harp (P) - Prelude
LCM Grade 7 Harp (P) - Nocturne or Fire Dance
Trinity Grade 7 Harp (P) - Prelude or Nocturne or Fire Dance
Publisher
Adlais Music Publishers
Editor
Cover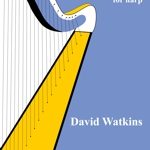 Score
YouTube
SoundCloud
Publisher catalogue No.
Adlais 216
Publication year
Notable performances