Title
Preseli Skies & African Reflections
Publication
Preseli Skies & African Reflections
Programme notes
Two new (2010) compositions for two harps or harp ensemble - concert or single action harp by Monika Stadler. Both pieces were commissioned by and dedicated to the American Youth Harp Ensemble and to Lynnelle Ediger-Kordzaia von Richmond, Virginia, USA and are aimed at intermediate standard harpists.
Preseli Skies: Inspired by the natural beauty of the Preseli Hills in the Pembrokeshire National Park in West Wales, UK. Harp 1 itself is already an independent solo piece for lever or pedal harp.
African Reflections: Inspired by the Kora and the sound of the Balaphone, two traditional instruments from Africa. It experiments with different sounds: a cloth between the strings, hand percussion on the soundboard, and clapping
Publisher
Creighton's Collection
Editor
Cover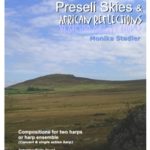 Score
YouTube
SoundCloud
Publisher catalogue No.
SM0272
Notable performances