Composer
Kirsten Agresta Copely
Programme notes
"Ronzio" is an original song meaning "hum", which is how the music began forming in my mind. I'm inspired by the Italian classical contemporary composers like Ludovico Einaudi, and hope it similarly resonates with modern crossover fans. This piece strikes a balance between the melancholy and intensity of character.
Publisher
Kirsten Copely Music
Editor
Cover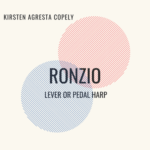 Score
YouTube
SoundCloud
Publisher catalogue No.
ASCAP ID 897373954
Notable performances