Composer
Kirsten Agresta Copely
Programme notes
Imagine a delightful winter's journey by means of a sleigh drawn by three beautiful white horses. Troika glides along with a brisk RH pattern accompanied by harmonics in the intro, then winding and turning around hills and bends, before returning to the pure, smooth, glistening snow.
Publisher
Kirsten Copely Music
Editor
Cover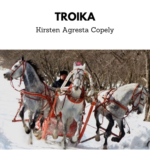 Score
YouTube
SoundCloud
Publisher catalogue No.
ASCAP #905858506
Notable performances